The story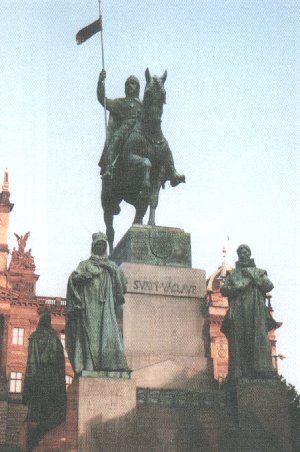 Legends and archaeology tell us about the early days of the Slavic people in Bohemia. One legend about Duchess Libuse, describes how she established the Premyslid dynasty of dukes, princes and kings which ruled Bohemia and the Czech Kingdom for almost a thousand years.
Wenceslas was born into this dynasty and is now revered as the first Czech Saint and many churches were built in his name around the world. Statues of him were put up in public places like this one in Wenceslas Square, Prague.
Many heart-warming legends sprung up about his life, like the thousand-year-old oak tree still standing in the grounds of what was once a border castle, Stochov, where young Wenceslaus was born. It is said that his grandmother, Ludmila, planted the oak tree there at the time of Wenceslas's birth. Nannies watered the sapling with baby Wenceslas's bath water and thus giving the tree its unusual staying powers.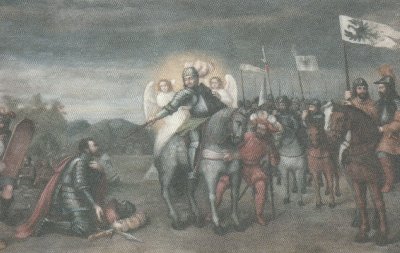 Wenceslas lived and ruled like a true Christian. He was not afraid to stand up to the neighbouring Duke Radslav. To save bloodshed on both sides, Wenceslas challenged Radslav to a duel and won. As seen on painting shown on the left, now in the basilica of Saint Wenceslas in Stara Boleslav.
There is a lot more to the story of Good King Wenceslas, which is revealed in the book you can now buy online.