The story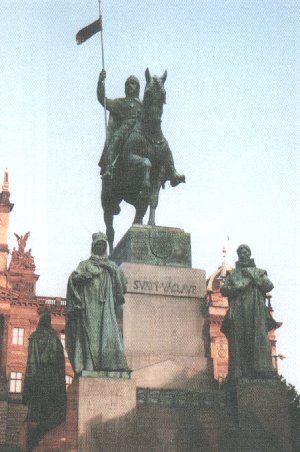 Archaeology finds and many legends tell us about the early days of the Slavonic people in Bohemia. Wenceslaus was born into the Premyslid dynasty of dukes, princes and kings which ruled Bohemia for almost a thousand years. Young Wenceslaus was greatly influenced by his grandmother Duchess Ludmila, who also became a Czech Saint.
The arrival of Christianity from Moravia brought the first writing in the Slavonic language, known as 'Hlaholice' and also new customs and practices such as building with stone and mortar. Young Wenceslaus was educated in Slavonic reading and writing by Ludmila's priest, Paul, who in turn has been educated by the Greek missionaries, Saint Cyril and Saint Methodius. Hlaholice was later developed into Cyrillic script by St Cyril's pupils.
In later years Christianity was also preached in Bohemia by priests from the West, using Latin and thus the first Latin school was established in a castle Budec, which was attended by young Wenceslaus. Excavations found sharp instruments called 'stiluses' with which pupils were writing on wax-covered plates.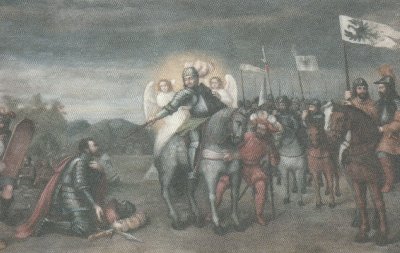 Wenceslaus lost his father at the age of thirteen and, as the oldest male, he was enthroned. However, his mother, Drahomira ruled until he was eighteen. Drahomira had Wenceslaus's grandmother, Duchess Ludmila, murdered and in many ways returned the country to a pagan way of life. Wenceslaus, once he came of age, made a firm return to the Christian way of life. He built the Rotunda of St. Vitus, a sophisticated construction for its time, in Prague Castle.
Wenceslaus was trained in combat from an early age. He was not afraid to stand up to the neighbouring Duke Radslav. To save bloodshed on both sides, Wenceslaus challenged Radslav to a duel and won. On the left is a picture from the Basilica of Saint Wenceslaus in Stara Boleslav, showing submission of Radslav to Wenceslaus after the duel. Not only churches were built dedicated to St. Wenceslaus but also statues were erected like the one shown on the right, which stands on Wenceslaus Square in Prague.
There is a lot more to the story of Good King Wenceslaus (Wenceslas), which is revealed in the book you can now order online. The book is also available in the UK through local bookshops.